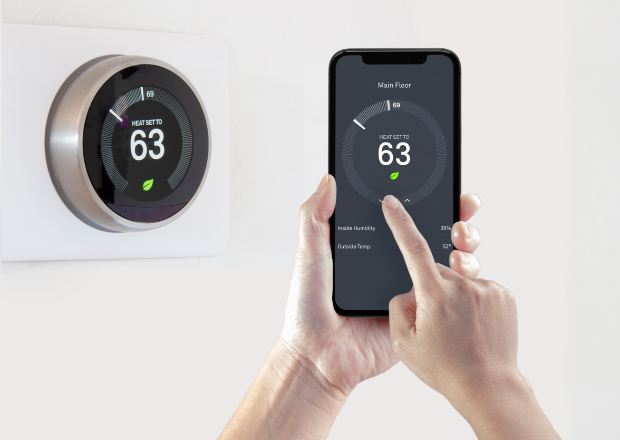 If you like to keep up with the latest gadgets and technology advancements, you're probably going to love the benefits of switching over to a smart thermostat to control your home's thermostat.
Smart thermostats offer an array of benefits compared to older manual thermostat types, as well as programmable thermostats, which you may currently have in your home. Aside from the convenience of controlling your home's temperature remotely from your smartphone, smart thermostats also can provide regular energy reports regarding your HVAC system's energy usage and use AI technology to learn your temperature preferences over time and automatically adjust the temperature.
Aside from the added convenience of using a smart thermostat, they can also help you save a significant amount of money on your monthly energy bills. We'll explain how in our most recent blog.
How Much Money Can Smart Thermostats Save Homeowners?
According to Energy Star, installing a smart thermostat in your home can save about 8% of your yearly heating and cooling costs, or about $50 a year. Even greater savings can be obtained depending on your personal temperature preferences, the climate you live in, and the type of HVAC system you own.
How Can Smart Thermostats Help Homeowners Save Money?
Let's explore some of the smart thermostat features and how they can help you experience significant savings on cooling and heating costs. 
Controlling Your Thermostat from Anywhere
The ability to control your thermostat remotely is a huge convenience. You can crank the thermostat up from your smartphone before you leave work to ensure your house is warm and cozy when you return. But the ability to control your thermostat remotely can also save you money. Let's say you left for a week-long vacation in the summer, but forgot to set the thermostat to a higher setting. With a smart thermostat, that's not a problem! Simply pull out your smart device and make the appropriate adjustment. If your teenager is home alone and blasting the AC, you can also check the thermostat from your smartphone and change the setting. 
Regular Energy Reports
Smart thermostats provide you with monthly or regular energy reports to see how you're using your HVAC system. If energy bills are high, you can make appropriate adjustments to your temperature settings for additional savings. All of this data can be accessed directly from your smartphone or device.
Monitoring Your Heating and Cooling System
Smart thermostats can even monitor for energy spikes that could indicate a repair or maintenance is needed. This can save you money in a couple of different ways:
Saving money on your energy bills. HVAC systems that are in need of repair often must work harder to heat or cool your home, leading to higher energy costs.
Saving money on a bigger, more expensive repair. The longer you wait to repair your HVAC system, the better chance that a small repair will balloon into something more serious – and expensive. Being able to monitor your heating and cooling system in the palm of your hand can help you save money and keep your energy efficiency in check. 
Pre-setting the Thermostat
Like a programmable thermostat, a smart thermostat also allows you to program temperature schedules based on the time of day and day of the week. For example, in the summer, you can pre-set your thermostat to a higher setting during the work week and a lower setting during the weekend when you're home for additional energy savings. An advantage to smart thermostats over regular programmable thermostats is that smart thermostats can also use geofencing technology to locate your smartphone and automatically adjust the temperature before you arrive home for the day.
AI Technology
There's a reason smart thermostats have the word "smart" in their name. Smart thermostats use AI technology to learn your temperature preferences and can automatically adjust the thermostats accordingly. You don't have to do a thing.
Contact SafeStreets for the Installation of a Smart Thermostat
As you can see, smart thermostats save money. If you're interested in learning more about how a smart thermostat and other smart home technology can help save energy and money, contact the home automation professionals at SafeStreets today. We would be happy to set up an appointment to install a smart thermostat in your home today.