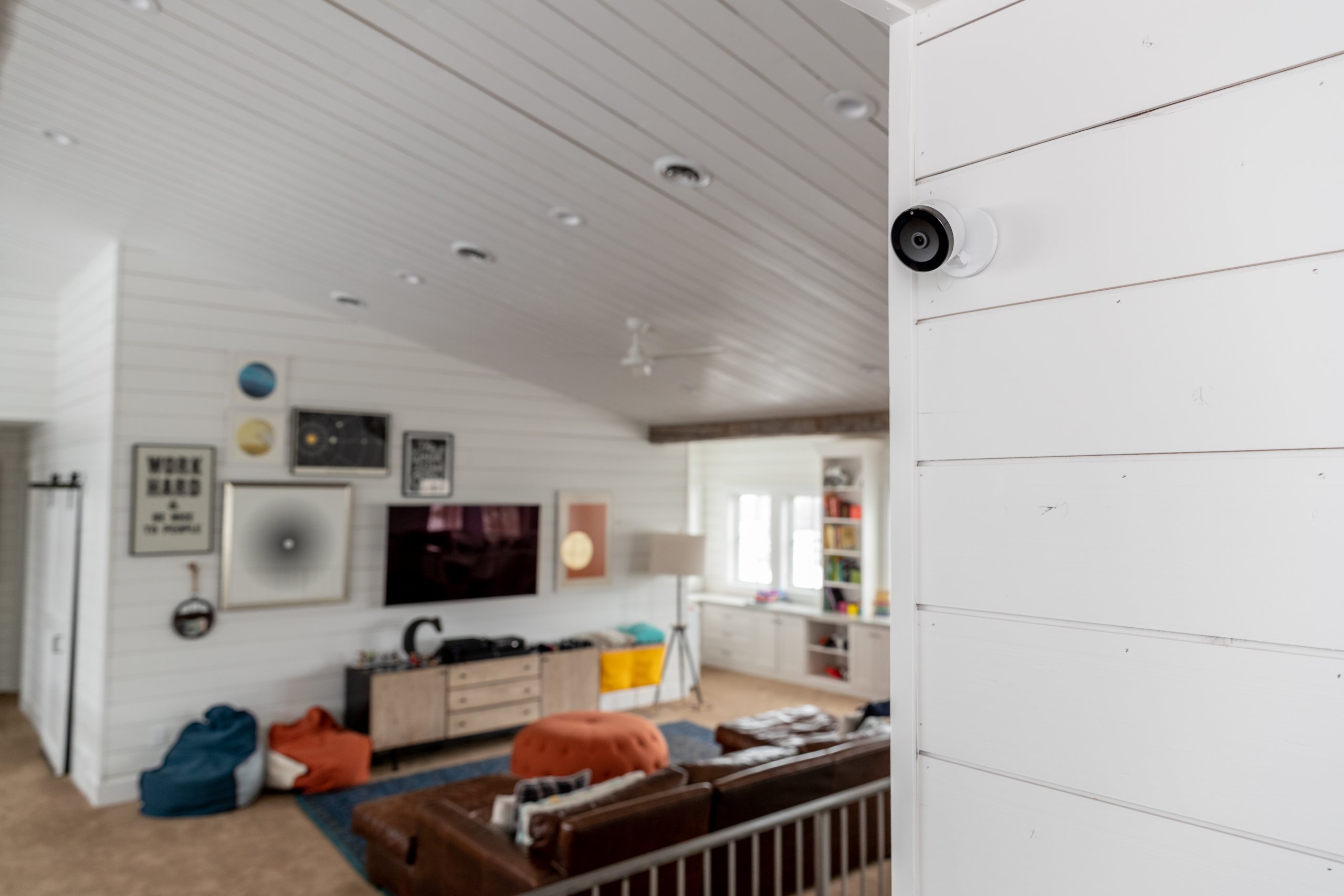 Since you can't be everywhere at once, you need something to help protect your home and loved ones while you're gone. That's where home surveillance systems come in. In this blog, we'll talk about what home surveillance systems are, what they include, and how to pick the best one. 
Home Surveillance
Defined 
A home surveillance system or residential surveillance system is any kind of filming, recording, or monitoring of your home or property. The smallest residential surveillance systems are one camera monitoring one space, but they can get much bigger than that. Surveillance systems can include an intricate web of cameras monitoring your entire home and property. However residential surveillance looks, it's an important part of home security.  
What Are The Key Aspects Of A
Home Surveillance
System? 
While there's a whole range of what residential surveillance can look like, there are a few key parts that will help keep your home and property monitored: 
Cameras
Cameras are a crucial part of any home surveillance system. There are two main kinds of cameras: indoor and outdoor. Indoor cameras can monitor a child's room or the entryway—any space you want to keep an eye on. These cameras can be a single unit, or they can be part of a package. Outdoor cameras monitor the outside of your property. They can be easily visible to deter potential intruders, or they can be concealed. Cameras can be connected to a central device or your phone to monitor your property. 
Recording Options
Without a recording option, cameras only show live footage. If you're not actively watching the cameras, you may miss something important. A recording option—like a DVR or cloud storage recording—will record footage and store it in a central location where you can look at it when you need to. While a DVR allows you to locally look back at your footage if an accident occurs, it usually has to be connected to a monitor or other device. Cloud storage, an option that SafeStreets offers with ADT-monitored cameras, allows you to instantly be notified anywhere in the world of an incident and allows you to view it immediately on your smart device, tablet, laptop, etc. DVRs also usually have a limited amount of space, whereas cloud storage is much more flexible.
Video Doorbells
Video doorbells are a newer addition to residential surveillance, but they can make a world of difference. These high-tech doorbells show video footage of whoever is ringing your doorbell or on your porch. You can see the footage on your phone, and you can even talk to the person on your phone as well. The front door is an important place to monitor to keep your home and family safe. 
Light Sensors
You might not think of light sensors as part of surveillance, but they can be. Many light sensors use cameras to determine if someone entered a space and turn on the lights. The sudden influx of light can scare away intruders. In addition, lights on your cameras can also make sure you can still monitor your surroundings after dark. 
What's the
Best Home Surveillance System
? 
You know what you should get in a home surveillance system, but how do you figure out which system is the "best"? Determining the best can be hard, but there are some key metrics you should consider when looking for a surveillance system. 
IP rating.

When it comes to long-lasting cameras, you're going to want one with a good IP rating. IP ratings tell you how much protection the electrical casings provide from dust, water, and other wear. The first number in the rating tells you about the protection from solid ingress while the second digit tells you about water protection. IP68 is as high as you can get. For security cameras, you'll always want dust protection at 6, but you can vary on water protection from 5–8. 

Night vision.

Cameras can become useless in the dark without some kind of night vision technology. When looking for cameras, consider choosing at least one with night vision. These cameras use infrared light to create the image of what it's filming. 

Resolution.

There are cameras with resolutions ranging from 720p to 4K. A good surveillance camera will have 1080p, but the better the resolution, the better the detail—especially at a distance. 

Wireless vs. wired.

Whether a wired or wireless system is best for you will depend on your level of comfort with technology, security concerns, and WiFi connectivity. Wired systems are integrated into your home's wiring and are great if you want an added layer of hacking protection or have poor WiFi connectivity. Wireless systems allow you to remotely connect and control your system. They can be more flexible, easier to install and work, and can be removed and reinstalled if you were to move houses.
ADT-Monitored
Home Surveillance
From SafeStreets
Here at SafeStreets, we provide all of the best features of a residential surveillance system. We offer surveillance tech monitored by ADT—the biggest name in the home security business. Our indoor and outdoor security cameras have high resolutions and IP ratings, and we offer both wired and wireless systems. With light sensors, recording, and video doorbells available too, you'll be able to create the ideal home surveillance system for your house and family. Call for a quote to get started today.