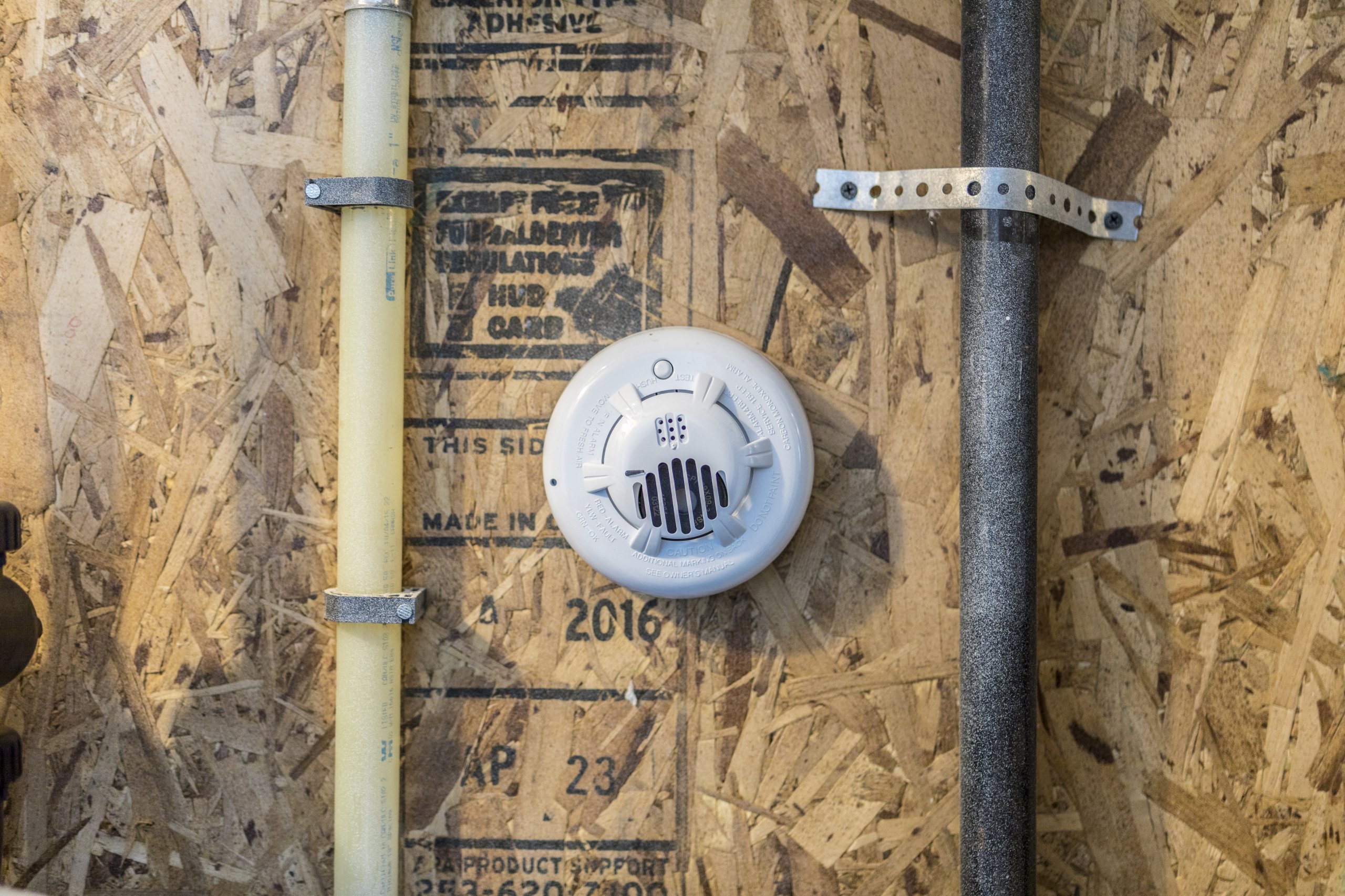 Carbon monoxide is a toxic gas that can be deadly if you breathe it in large amounts. You can't see, smell, or taste carbon monoxide, so it can be lifesaving to have carbon monoxide detectors in case of leaks.
Correct carbon monoxide detector placement is essential for your home because they alert you when carbon monoxide (CO) levels become unsafe by sounding an alarm or displaying a warning light that indicates CO levels have exceeded safe limits. 
Here are the recommendations for where to install carbon monoxide detectors for best use.
Installing Carbon Monoxide Detectors
The first thing you'll want to consider when thinking about where to place carbon monoxide detectors is what kind of detector you have. Depending on the detectors you have, you may have more or fewer options when it comes to placement in your home. There are three main types on the market today:
Hardwired – Hardwired carbon monoxide detectors are reliable because they are connected to the main power supply of your home. They are all connected so the alarms will all go off together, simultaneously and continuously beeping until turned off manually. Hardwired detectors have a backup battery in case of a power outage. 
Battery – Battery-powered carbon monoxide detectors depend only on batteries. When the battery is low, the alarm will chirp indicating that the detector needs a new battery.
Plug-in – Plug-in carbon monoxide detectors are plugged in directly to electrical outlets with a battery backup in case of a power outage. Placement is limited to the locations of outlets in your home.
Where To Install Carbon Monoxide Detectors
Proper placement of carbon monoxide detectors could mean life or death. This list offers the most common suggestions on where to place carbon monoxide detectors around your home. The most important locations are sleeping areas and placements near sources of carbon monoxide.
Where should carbon monoxide detectors be placed:
Every level of your home.

Outside every sleeping area.

5 feet from the ground.  

Areas required by local law. 

Near sources of Carbon Monoxide. 

Near an attached garage. 

Take into consideration manufacturer recommendations.
Where shouldn't carbon monoxide detectors be placed:
Near windows or blowing air.

Near flame-producing appliances or fireplaces.

In direct sunlight. 

Humid areas. 

Lower than 5 feet from the ground.
Carbon Monoxide Detectors vs. Smoke Detectors
While both detectors, carbon monoxide and smoke detectors are used for two very different life safety measures. 
Carbon Monoxide Detectors – Carbon Monoxide Detectors detect dangerous levels of carbon monoxide, alerting the household of poisonous CO gas in the air.
Smoke Detectors – Smoke detectors detect smoke and sometimes heat, alerting the household of a possible fire. 
What Do You Do If Your Carbon Monoxide Detector Goes Off?
When in doubt, get out! If you aren't sure why your carbon monoxide detector is beeping, it's always safest to get out of your house first and then determine if it's an actual leak or a battery warning. Here are the beeps you should be aware of:
4 Beeps and a Pause – Emergency! Exit your home immediately and call 911.
1 Beep Every Minute – Your carbon monoxide detector is running low on battery. No need to call emergency services, simply change the battery. Tip: Change batteries every six months to avoid this!
5 Beeps Every Minute – Sadly, the life of your carbon monoxide detector is coming to an end and needs to be replaced. No need to call emergency services, but replace the detector as soon as possible to continue monitoring CO levels in your home.
Certain carbon monoxide detectors can help you take the guesswork out of beeping. At SafeStreets, our ADT-monitored carbon monoxide detectors will send an instant notification to your connected devices letting you know what's happening. Battery low? Leak detected? All will be sent as a notification in addition to beeping. 
Choosing the Right Carbon Monoxide Detectors
When considering carbon monoxide detector placement, here's what to look for in a good carbon monoxide detector:
Versatile Mounting

– For safe and discrete locations, this makes it easy to place your carbon monoxide detectors on the ceiling or wall with wireless capabilities.

24/7 Monitoring

– Detectors connected to an ADT monitoring center are monitored 24/7 by ADT professionals who can dispatch emergency services if your alarms are triggered.

Smart home integration

–

With SafeStreets, a new voice-controlled Smart Home app lets customers use voice-activated commands to interact with their ADT Pulse system.

Mobile instant notifications

–

Receive instant notifications whenever a leak occurs in your home or if you need to change its batteries.

Long Battery Life

– Look for carbon monoxide detectors that have a long battery life to take out the hassle of changing batteries every six months. SafeStreets uses lithium-ion batteries with up to 10 years of battery life.

Electrochemical Sensors

– Install detectors that can detect a leak even at its lowest levels.

Tamper Resistance

– If a detector is taken off its base or its battery levels are low, a control panel can alert you.

Professional Installation

– Leave the hassle of installation to the pros. SafeStreets professionals can help you choose the right

carbon monoxide detector

, customize detector placement, ensure correct installation, and consider specific specifications.
Stay Safe With SafeStreets
Carbon monoxide is the silent killer. Every homeowner worries about a carbon monoxide leak in their home. Fix the problem as soon as a leak occurs with SafeStreets' ADT-monitored carbon monoxide detectors. SafeStreets can help you make sure your carbon monoxide detectors are installed correctly and placed in the right locations. Whenever one of your carbon monoxide detectors detect a leak, you will receive instant notifications on all of your connected devices. 
Get in touch with our Smart Security Pros to learn more about our carbon monoxide detectors. Get your free quote today!